Our Awards
2011 Improving State Operations Category – Call Center Network Platform Application Upgrade Project (CCNPAU)

The CCNPAU project consolidated 16 Call Centers into one "virtual call center" in the cloud. This pioneering approach to a call center platform was the first of its kind and size in the state of California. The new system allowed unemployment benefit claimants to use the phone to certify for continued benefits instead of completing and mailing paperwork. Not only was the CCNPAU project an innovative approach to a call center platform, the project management approach demonstrated innovative and outstanding cross-boundary collaboration. TrueCourse Solutions acted as the Lead Systems Engineer, the Lead Integration Planner, the Lead Tester and the Lead Organizational Change Manager. Through this partnership and the use of an innovative "iterative and incremental" approach to application development in large-scale state and government projects, the CCNPAU solution was fully implemented by November 2010.
The National Association of State Chief Information Officers (NASCIO) provided the award and is a nonprofit association that represents state chief information officers and information technology executives and manager. The primary members are senior officials from state government who have executive-level and statewide responsibility for information technology leadership. NASCIO provides state CIOs and state members with products and services designed to support the challenging role of the state CIO, stimulate the exchange of information and promote the adoption of IT best practices and innovations.
2014 Government Internal Category – Rail Safety and Security Information Management System (RSSIMS)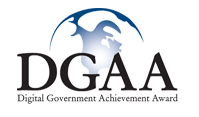 The Rail Safety and Security Information Management System (RSSIMS) achieved two general objectives:
It improved rail safety and security. RSSIMS now enables identification of trends in incidents and inspection data, which assisted staff and the Commission to proactively address safety issues. Also, RSSIMS allows for facilitated tracking of the status of required corrective actions and recommendations for safety improvements.
It created an automation environment that enhanced service and efficiency. RSSIMS now provides CPUC a tool for centralizing information and analyzing oversight activities. CPUC's rail units were struggling to meet the demands of the overall rail program, and needed to develop more efficient means to accommodate the increasing demands of rail-related legislation.
TrueCourse Solutions ran this project as the project manager from beginning to end. The effort involved managing a third party systems integration vendor and over 50 field inspectors, incident analysts, administration staff and managers. The methodology used required inclusion and coordination of key users throughout the project. This approach substantially reduced deployment risk and resulted in a smooth acceptance and adoption of the new automation.
The Center for Digital Government presented the award and is a national research and advisory institute on information technology policies and best practices in state and local government. The Center is a division of e.Republic, the nation's only media and research company focused exclusively on state and local government and education.
Our Publications
Actionable Strategies – Through Integrated Performance, Process, Project and Risk Management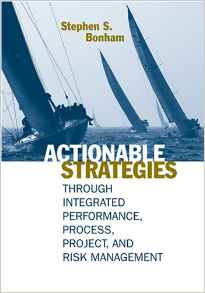 The global economy is posing new challenges, demanding innovative ways to control essential business operations. This unique resource presents new, actionable strategies that offer companies this control through integration of key aspects of management. The book shows professionals how to integrate performance, process, portfolio, project, and risk management so their companies can respond more rapidly and effectively in a highly competitive environment. This insightful volume explains how process portfolio management builds a corporate knowledgebase that controls processes.Practitioners learn how operation and strategy control patterns can be used to manage operations, so companies can quickly implement new strategies. Moreover, the book shows how to make project management offices more successful with operational portfolio architectures. Combining these latest methods in business design with the realities of the growing economies in Asia, India, the Middle East, and Eastern Europe, this book is filled with dynamic solutions for the new international marketplaces.
IT Project Portfolio Management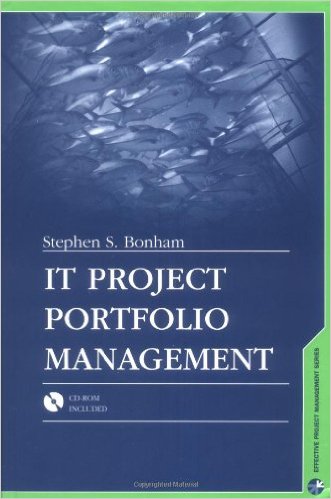 This groundbreaking book introduces you to a comprehensive approach to implementing Project Portfolio Management (PPM) to support and prioritize IT projects in both large and small companies. The first book to show you how to manage the portfolio of all IT-based projects in an organization, this unique resource details how a portfolio of projects can be aligned with the ever-changing marketplace via a central strategy, maximized for overall return on investment, and balanced for risk across an organization. Written by a highly regarded industry professional with over 15 years of experience, the book is packed with real-world case studies and insightful personal experiences from the author's career.
You discover new concepts such as Virtual IT PMO, IT Flexibility Chains, and AARK management and learn how these concepts can be combined for optimum effectiveness under the umbrella of IT PPM. From overcoming bureaucracy and breaking down communication walls between finance and information technology, to internal IT staffing and outsourcing, this authoritative book maps out the most effective way to choose, manage and support your portfolio of IT-based projects to match the goals of your company's corporate strategy.